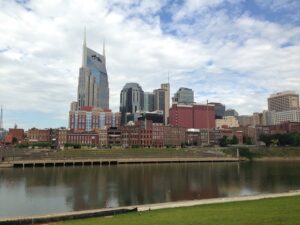 Find Nashville real estate here on Tennhouses.com. Search the Nashville MLS for  every Nashville real estate property and home for sale.   Stay up to date with Nashville real estate market news from our professional team of Nashville real estate agents.
Nashville homes sell quickly in some of the popular neighborhoods, so make sure that you have the tools to stay on top of the market.
The suburbs and towns surrounding the Nashville area are very popular for families with school aged children and the commute from most of them to downtown Nashville is still fairly quick compared to most cities. If schools are one of you major concerns, the top school district in the state is in Williamson county just south of Nashville. I rank the schools based on test scores provided by the state of Tennessee and created searches by school to allow you to search for homes by school. I think its one of the most important criteria for resale value.
Confidence in the Nashville real estate market is reaching record levels as more homes are being sold and the activity is increasing. The population in the Nashville area has been rapidly increasing over the last decade. Nashville continues to attract new residents from all around the country because of the area's strong economy, plentiful employment, family-friendly lifestyle, and excellent schools.
This is the perfect time to buy or sell Nashville real estate. For home buyers, prices are still affordable but are expected to continue to rise. That makes the homes for sale in Nashville an excellent investment opportunity, which can contribute to a secure future for you and your family. Home sellers can take advantage of the robust real estate market in the area, with both young professionals and retirees flocking into the area, all eager to find Nashville homes for sale.
The unique combination of features attracts both young professional families and retirees, all looking for a better way of life. As more people learn about the amazing quality of life in the Nashville area, more are inspired to move here. That keeps the property values rising and ensures that your investment in a Nashville home will likely continue to rise.
Franklin is another very special place to live. While it is not part of Nashville, it's just a short 20 minute commute to downtown and it's historic downtown area and battlefields bring thousands of visitors from around the world. The shopping and dining in the Cool Springs area also brings many visitors form the surrounding area.  The most popular Franklin neighborhood at this time is Westhaven, located on the west side of Franklin, it has all the attributes of a town within a town, including a grocery store and clinic, as well as a golf course and elementary school.
Brentwood is also very popular in Williamson county. Known for its schools that rank as tops in the state based on test scores, and some say maybe the tops of all public schools in the country. The most popular Brentwood neighborhood for the last few years has been the Governors club. With an Arnold Palmer designed golf course surrounding the gated community, and the fabulous club house and pool, it's a very social destination. As an experienced Brentwood realtor,  I've found that most of the residents of the Governors club are active, but also enjoy the privacy that a gated community allows. Being less than a 30 minute drive the Nashville international airport or downtown Nashville makes for an easy commute.
Please give me a call if you would like to find out more. I'd love to find out what you are looking for.
As a Nashville native with over 20 years of experience as a REALTOR®  has given me a deep knowledge of the area that I love to share with my clients. I can find the perfect home for you by using my experience, my extensive network of local contacts, the knowledge and dedication of my team — the best real estate agents Nashville has to offer — and high-tech tools, including a database of fantastic properties.
My satisfied clients know that the knowledge I share as a Nashville REALTOR® goes beyond knowing the value of the homes in the area. I am also intimately familiar with the different communities, towns and cities that make up the Nashville area. Each of these communities has its own special flavor. Because I know these areas so well, I am able to advise my clients about which ones they are likely to find the most appealing. I enjoy sharing information about places they may not have known about before.
When I show clients Nashville homes for sale, many are delighted to find this serene community that is so close to Tennessee's major employment and cultural centers, yet retains the old-time feel of a friendly small town. With my expert team of Nashville real estate agents, I know where the best Nashville homes for sale are to be found.
When you move into a Nashville home, you are not only gaining a wonderful new place to live — you are also buying a solid investment for your future. To ensure that you get the best value for your money, I keep my finger on the pulse of community trends, the local economy, business developments and other social factors that can affect the market values of property in the area.
If you are selling your Nashville home, I can help you get the best price with the least amount of disruption to your regular daily life. In today's world, you need to attract buyers by having an attractive presentation on the Internet that showcases the features of your home. My team and I will help you prepare this presentation. We will always be there to guide you throughout the selling process.
If you would like to learn more, feel free to call me directly 615-512-7853.
All of the information in the Nashville MLS is available on the home search on my website, but from my website, you can modify searches to fit your criteria, and get daily or weekly updates of new properties via e-mail if you desire.
When I list your home…IT WILL BE SEEN by home buyers all over the world!
Find Nashville real estate here on Tennhouses.com. Get immediate notification of any new Nashville real estate listings that become available.
Use this page for search for Nashville real estate.